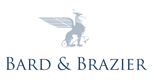 Bard & Brazier Towel Rails and Basin Stands of Exceptional Quality
T: 01603 488770
Made in Great Britain, towel rails and basin stands made by Bard & Brazier are a byword for quality, innovation and an unwillingness to compromise.

Brass tube is bent by machine and then shaped by hand, ball joints are painstakingly soldered by eye and the dull brass glistened to a sheen by hours of labour. 

See the workmanship for yourself at Mag Bathrooms in Norwich.
The Fine Art of British Engineering
Every Bard & Brazier product range has something unique in its makeup, from the integral invisible valves in the d-rail to the huge Baronial ball fittings, something you will not find anywhere else in the world - this dedication to design, build quality and innovation.